How about incorporating mindfulness exercises for anxiety reduction as life hacks for stress free living?
Sounds appealing…but feeling doubtful if applying mindfulness can work?
You'd like to welcome any anxiety relief idea except that you could be wondering how to even adopt a mindfulness practice of watching the breath quietly when your mind is constantly filled with worry. As far as you know, worry is not something that you can easily cast aside. You have not been able to stop feeling anxious on a lot of matters pretty much.
And so, you suspect that you won't be able to concentrate with worry in tow. What's more you don't believe that you have time to sit on a meditation cushion for long periods of time. Not when you need to be up and about, fighting fire in your environment or working your butt off lest you fall behind.
Well, I'd like to share some mindfulness exercises for anxiety reduction that do not require you to sit in a monk-like lotus position for hours. These mindfulness exercises are ones that you can easily incorporate into your life. They are like life hacks that are meant to assist you with cutting down overwhelm.
When practising mindfulness, you are focused on centering yourself rather than be caught in a fluster. The calmer you become, the more able you are with gaining clarity for problem solving and centeredness for weathering any storm. Consequently, you get more done with a lot less stress!
Let's proceed, shall we?
First, let's understand mindfulness by what it is not. Clearing any mistaken beliefs is going to help. Finally, get to apply practical mindfulness exercises for anxiety and stress reduction easily!
What Mindfulness Is Not and Is
Mindfulness is not just for the Buddhists or is it some new age fad. Neither is mindfulness a practice that is confined to the time when you are seated on a meditation cushion alone. On the contrary, mindfulness can be practiced by just about anyone and throughout the day.
Mindfulness is simply the act of being fully present to the moment. You are also in conscious awareness to whatever thoughts, feelings and emotions are flowing through your mind, body and spirit. Hence, you are not trapped in the past or worrying about the future. It is about being in the now.
The definition of mindfulness given by Jon Kabat Zinn in his book Wherever You Go, There You Are is:
"The awareness that emerges through paying attention on purpose, in the present moment, and non-judgmentally to the unfolding of experience moment by moment."
Note that you are attentive to the experiencing of the moment as it-is. You are neither in constant critique or fretting about your situation. Without any pre-conceived ideas or expectations, you are open to what you may discover as the moment unfolds.
It is as if every moment is a new encounter. Thus, you are able to meet the world with openess. Anxiety and stress simply dissolves in the face of present moment awareness and awakened consciousness.
7 Mindfulness Exercises for Anxiety
Let's put all the above explanations into practical ideas for mindfulness exercises for anxiety that you can easily apply.
Mindfulness Exercise #1: Breathing.
You are breathing all the time so much so that unless you pay attention, you may have forgotten what it means to be alive. When you bring focus to your breathing, you are building a connection with your physical body. You are also noticing how you are interacting with your surroundings.
Mindful breathing involves bringing your conscious awareness to your breath as you inhale and exhale. Sometimes, for a start, you may take an exaggerated breath: a deep inhale through your nostrils (to the count of 3), hold your breath (count of 2), and a long exhale through your mouth (to the count of 4). Some people place their attention on their nosetrils while others watch the rising and falling of their stomach.
Whenever your mind wanders because it was distracted by thoughts or bodily sensations, simply need to bring your awareness back to your breath. You don't judge or criticise yourself whenever you get distracted. For a start, practice mindful breathing for 10 minutes in the morning when you wake up. Do this daily and you'd find yourself getting into the habit of practising mindfulness.
Mindfulness Exercise #2: Shower
Bath time offer great opportunities to practice mindfulness exercises for anxiety reduction. Pay attention to the sensations that you are experiencing while showering. By applying mindfulness, you are being more present, thus allowing you to relax even further.
Feel the water on your skin as it splashes all over you. Feel how it runs from the scalp of your head and to the rest of your body. Take in the smell of the shampoo and soap. Notice how rejuvenating cleansing yourself with water is.
Mindfulness Exercise #3: Drinking Tea
Take in the aroma of your tea as it hits your nose. Feel the warmth of your cup through your fingers. Take measured sips and savor each of them mindfully.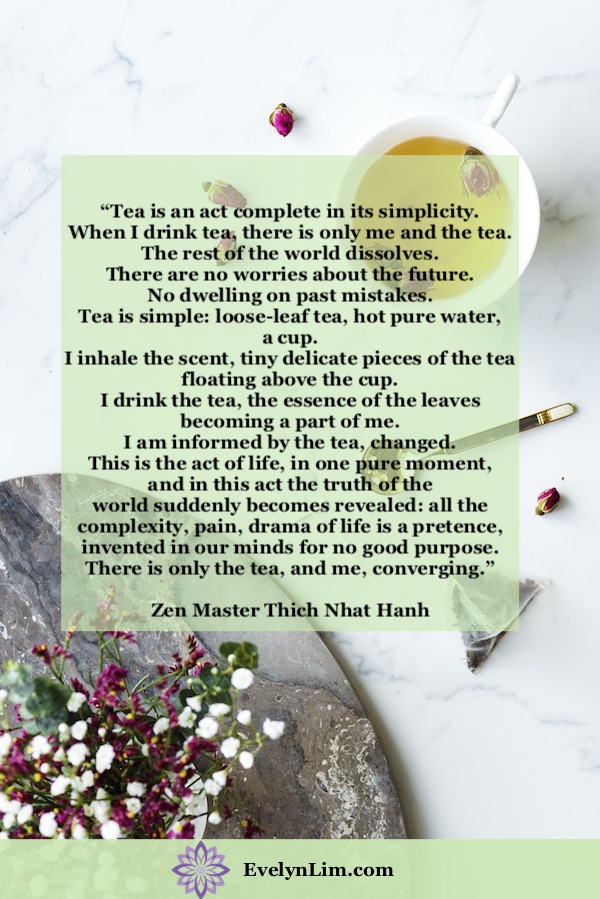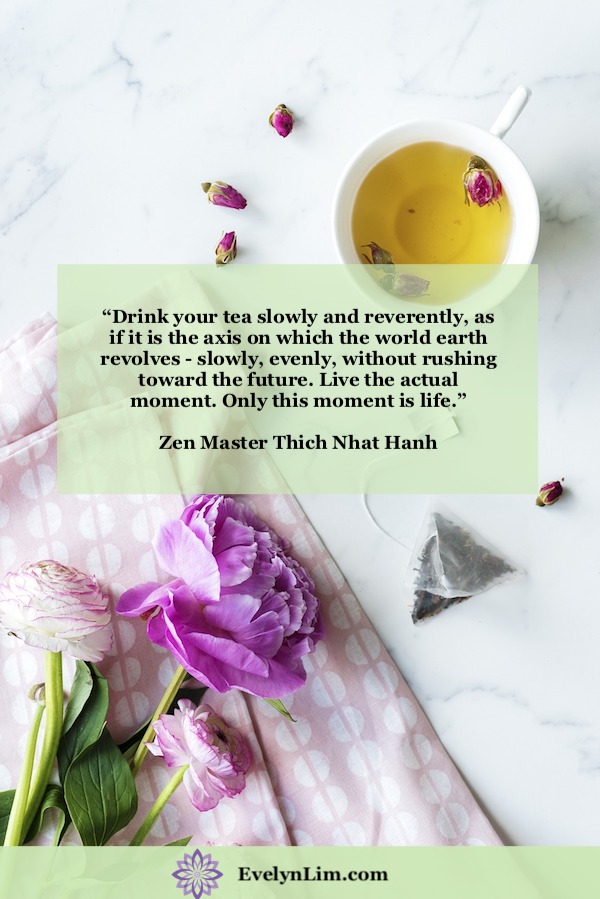 Mindfulness Exercise #4: Walking Meditation
Walking meditation was one of the first mindfulness exercises I started with. I was introduced to it by a monk twenty years ago when I visited him in Chiang Mai for a private retreat. I was given the following instructions…
Slow down your walking and walk as if in slow motion. Observe your feet in a forward movement. Feel your feet on the ground. Notice your muscular movements. Be present to how your feet is meeting its surroundings.
Mindfulness Exercise #5: Physical Exercise
When you are too much in the head, stress can build. You end up over-thinking, with no clarity on how you can best solve your problem. Too much mental activity can also affect your sleep.
Physical exercise helps you get out of your head. The next time you exercise, apply mindfulness too. Listen to the beat of your heart. Notice the quickening of your breath. Observe your breathing. Feel the sweat forming on your forehead. Bring attention to your bodily movements. Immerse yourself in the physical activity.
Mindfulness Exercise #6: Washing Dishes
Washing dirty dishes no longer needs to be a dread! I was given this personal advice by a visiting monk that I met years ago. He suggested that I turn this activity into a mindfulness practice.
Pay full attention to washing dishes. Feel the water on your hands. Observe how the sponge soaks up the soap. Notice how heavy the plates and bowls are in your hands. Focus on washing plates with presence, rather than worrying about something else.
Mindfulness Exercise #7: Reconnect with Nature
Reconnecting with way is one avenue whereby you can apply mindfulness. Park your worries aside for a while and go to the garden.
Simply feel the gentle breeze on your skin, the warm sunlight on your face and the sensations that you experience simply by just being in nature. Notice how the shadows cast by the leaves change by the shifting sunlight.
Mindfulness Exercises for Anxiety Reduction
Mindfulness exercises for anxiety reduction are hacks for stress-free living.
Without conscious awareness of how you are living each moment, it is easy to lapse into running on autopilot. Your mind is in its default conditioning. It has the worry program installed.
Applying mindfulness exercises involves retraining the mind throughout the day. You are giving yourself a fresh reboot. The more regular you are with checking in on yourself, the more able you become to calm yourself, stay present and to recollect your focus.
Everyday activities can present opportunities for you to practice mindfulness exercises. Washing dishes, drinking tea and taking walks in the park are gateways for experiencing your senses. Your whole being becomes engaged with life and you are aware of it.
Instead of stress, you are able to meet peace with each moment. Your energy levels become restored. With daily mindfulness exercises for anxiety reduction, you create a compound effect that raises your sense of wellness.
Love and abundance always,
Evelyn Lim
Share Your Thoughts
Do you practice mindfulness? What mindfulness exercises for anxiety reduction do you apply in your life? Share what they are in the comment section below.
The post 7 Mindfulness Exercises for Anxiety Reduction – Life Hacks for Stress-Free Living appeared first on Abundance Life Coach for Women | Evelyn Lim.