What do archetypes have to do with awakening your Divine Feminine and why is this important?
Also, is any talk on Divine Feminine hocus pocus and how does this apply to the modern day woman?
Well, allow me to explain why you would want to dive deeper into the topic of archetypes of the Divine Feminine for sacred self-discovery.
For a start, awakening your Divine Feminine is important because you wouldn't want to have gender-related beliefs holding you back from drawing on your sacred womanly gifts and being the best that you can be. Beliefs that do not serve you include the following: women should be of the inferior sex, girls can only be seen and not heard, or that women are only meant to just sew or cook. You'd be surprised how many of us continue to hold such beliefs.
It's been a struggle for many women to align with their highest potential. The Divine Feminine has been suppressed for years until recently. Women have no or little rights to speak, express or show up throughout history. Even in modern times, many women continue to live in a paradigm that is outdated and that no longer supports our growth.
Awakening your Divine Feminine is nothing mystical. Nor is it a New Age fad. After all, it's your birthright to live as you are. In your true nature. You are able to draw on your feminine traits, strengths and gifts. It's an awesome feeling, being in the space where you own yourself fully.
For a long time, I had found it difficult to speak, express or show up confidently. It was only when I dug deep that I realised how I had bought into beliefs that disempower women. These beliefs were embedded into my psyche and affected the choices and decisions I made. The self-realisation hit hard and it was painful before I could free myself from the layers of falsehood.
Having helped other women through my coaching and healing services, I became aware of the vast and negative consequences of not reclaiming our Divine Feminine. They include the following:
– Low confidence and poor self-esteem
– The subject of emotional and physical abuse
– Depression
– Inability to shine at work
– Slower progress in job promotion
– Unable to go for what we desire and so on.
Conversely, when you live in fullness of your Divine Feminine, you are able to lead confidently from power. Living in fullness means having to reclaim parts that you have abandoned or ignored. It starts with self-discovery. Self-discovery offers you the opportunity to set the conscious intent of breaking free from the limitations you have imposed on yourself just because you are female.
I recommend incorporating an exploration into archetypal patterns so that you can reclaim your Divine Feminine. Go through each pattern in turn and align with the positive attributes. You can begin your self-discovery journey by journaling on archetypes with this guide here!
What is the Meaning of Archetype?
According to Jungian psychology, an archetype is a collectively-inherited unconscious idea, pattern of thought, image, etc., that is universally present, in individual psyches.
The 5 Archetypes of the Divine Feminine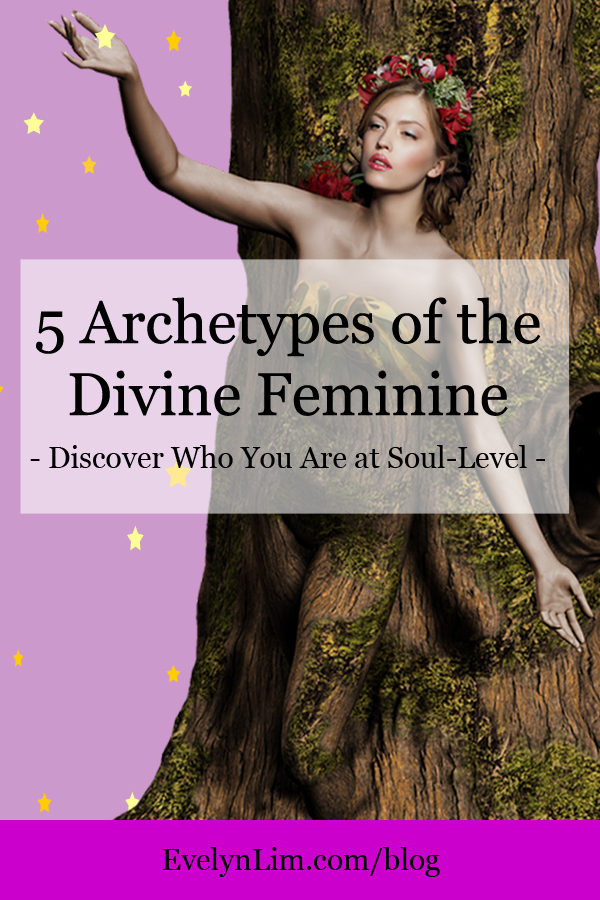 (1) Creator or Earth Mother
The Creator Mother within the soul of a Divine Feminine is like Earth. She has maternal instincts which makes her very caring. As a Mother, she nourishes with milk and she sustains life. Through her womb, a mother allows the merging of the masculine and feminine energy for creation to happen. She is akin to a Midwife, facilitating birth.
(2) Sensual Lover
Sensuality is the ability to fully experience the senses, without apology or restraint. The sense of smell, taste, touch, and vision combine to awaken her body. She is also a Sensual Lover who unites her energy with her masculine partner as ONE.
(3) Sacred Healer
The Divine Feminine is a Sacred Healer, whose loving and caring nature helps to heal relationships. She heals through her heart and soul. Her innate nature is full of grace. She is connected to water for emotional management.
(4) Wise Sage
The Divine Feminine is a Wise Sage, using her intuition to guide her for decision making and for navigating life. She senses energy, whether consciously or unconsciously, and is able to tell if something feels off or not right.
(5) Leader or the Warrioress
In a state of balance, the Divine Feminine is calm and therefore, not a chronic worrier but a Warrioress. As a Warriorress, she is able to handle her multiple responsibilities, deal with challenges and gets things done. She holds things together for her family and loved ones of whom she fiercely protects.
The Divine Feminine leads with creative power. It does not necessarily mean that she needs to be artistic. Her nature allows her to be receptive and to be open to ideas. Thus, she is able to work on the ideas for problem solving or for creating her best work.
Her gifts help her to carve out unique work for herself. Thus, she does not need to be in a co-dependent relationship. Most certainly, the modern woman does not have to rely on her partner to create a source of living. She has what it takes to succeed. Success is hers when she deems herself worthy.
Drawing on Your Positive Archetypal Traits
"We will discover the nature of our particular genius when we stop trying to conform to our own or to other people's models, learn to be ourselves, and allow our natural channel to open." Shakti Gawain
Connecting with your Divine Feminine requires you to be courageous to own who you are. There is no need for you to conform to the standards held by any masculine-led community. On the contrary, you are ready to overcome any fear of rejection.
"I was once afraid of people saying "Who does
she think she is? Now I have the courage to stand and say, "This is who I am."
Oprah Winfrey
The more you know yourself, the more you are able to peel off the layers of falsehood. You realise that you have been living in an illusion and you no longer wish to do so. As you become more authentic to your true nature, you'd find it easier to shine your core brilliance. In my book Self-Discovery Journal for Women, I provided writing prompts so that you can reclaim yourself.
Align with the Positive Archetypes of the Divine Feminine NOW
There is a cost to waiting if you are not seeing the urgency in awakening your Divine Feminine. The earlier you reclaim and celebrate yourself, the easier it would be to step into the best that you can be. You will be free of any beliefs that erodes your confidence as a woman.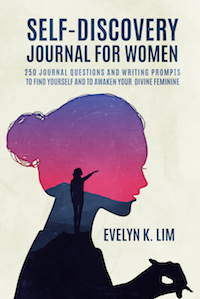 "The Divine Feminine understands that even as her body ages, she does not need to resort to invasive procedures to keep her youth or be worried that she has now lines to show. Nor does she need to fear losing her man because she is older. She has enough self-confidence to know that she is still beautiful from the inside-out." Self-Discovery Journal for Women: 250 Questions and Writing Prompts to Awaken Your Divine Feminine
I've personally seen how women were able to shine quickly after achieving a breakthrough from reclaiming lost parts of themselves. My clients had reported improved well-being and better success rates as soon as we work together. When they finally own who they are, their life magically changes!
It can happen for you too. Your feminine gifts are presented to you at the soul. Claim who you are NOW!
May you lead your best life, in full awareness of your divinity and true nature!

Love and abundance always,
Evelyn Lim
Life Coach for Women Entrepreneurs
Resources:
1. Self-Discovery Journal for Women: 250 Quhestions and Writing Prompts to Awaken Your Divine Feminine
2. Get an akashic soul reading for sacred self-discovery here!
3. Apply for a clarity call to get from stuck to breakthrough.
P.S. Enjoyed this article? Feel free to share it on social media. Thank you in advance.
P.S.S. Share your thoughts and comments below

The post 5 Positive Archetypes of the Divine Feminine for Sacred Self-Discovery appeared first on Abundance Life Coach for Women | Evelyn Lim.