People today are putting more conscious effort into figuring out what makes them happy and pursing that happiness. And there are many ideas out there about happiness, coming from a variety of sources: parents, teachers, friends, books, articles, media and advertising.
But I think that a lot of these ideas miss the mark; which is why I'd like to share my own perspective on the importance of one key asset in achieving happiness: your social skills. I believe they matter and they can benefit you so much that I deem good social skills a veritable shortcut to happiness.
Relationships as the Main Pillar of Happiness
Over the past decades there has been a lot of research in the field of psychology about the factors that make us happy. And the one that constantly stands out is our relationships with others. Individuals with quality relationships, who feel loved and appreciated, and have an active social life, are typically the happiest out there.
This makes perfect sense considering that we are social animals, who've always lived in some sort of social milieu, either a band, or a tribe, or a social group within a bigger town or city. And social cooperation has been essential in our survival and progress as a species.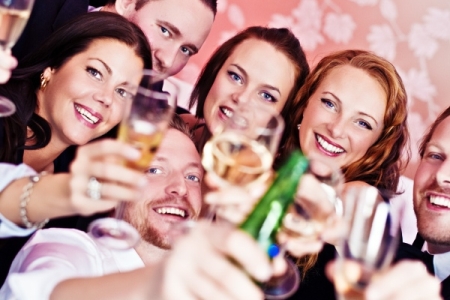 Psychologist and neuroscientist Matthew D. Lieberman really drives this point home in his book, Social: Why Our Brains Are Wired to Connect.
For instance, he argues that what our brains do by default when they don't have any particular task is to contemplate social situations and examine the social world; which shows the central role that social relationships play in our lives. Truly, there is no denying their importance.
The Best Path to Good Relationships Is Not What Most People Think
However, most people are drawn into poor views about the ways to get respect, appreciation and good relationships.
Society in general has taught us that the best ways to get such things are by being wealthy, or having a respectable profession, or following the latest trends. And so, a plethora of people are chasing these things, hoping they will get them the kind of fulfilling human connections they yearn for.
I find it particularly interesting to discuss with folks who wanna make a lot of money. There are lots of reasons why many people wanna be rich. Through money they seek experiences, variety, freedom or security.
But digging deeper into their motivations, I find that, above all, most believe money is the top way to earn the appreciation of others, in order to feel good about themselves and be able to build fulfilling relationships.
It's such an illusion! Both my coaching and social experiences have showed me over and over that: not only is money not a necessity to be appreciated, but chasing money is the long and inexact road to appreciation. The power of wealth to nurture good relationships has been vastly exaggerated by the rampant consumer culture we live in.
Really, the most popular ways to gain appreciation, considering the time and effort they require (a lot), the amount of respect they earn you (often not that much), and the type of respect they earn you (often superficial and fleeting), don't amount to good investments.
Social Skills Are a Much Better Path
I believe the methods described above constitute the long, roundabout path to appreciation and good relationships. The straightest and shortest path is in building sharp social skills.
You see, when you have good social skills you are able:
To express yourself in an articulate, convincing and alluring way.
To talk with a wide range of people, on a wide range of topics.
To empathize well will people, to understand their motivations and views.
To know how to adapt to others while staying true to yourself at the same time.
To show social intelligence and navigate complex social dynamics.
To manage your emotions well in social situations.
This makes social skills the direct and the best tool to connect with people, make a positive impression and nurture good relationships. All else takes longer to acquire and works less effectively.
Put two people at, say, a party, one who is a successful lawyer with lots of money, wearing a trendy suit, but with average social skills, and another who is a person with an average job, average income and average clothes, but really good social skills, and I guarantee you this second person will blow the first one out of the water in terms of likability.
While having money, working in a respectable job and being fashionable all have their merits and benefits, my point is that if you want great relationships, you should focus on developing your social skills above all. They will help you much more than these things.
Social skills take some work to improve as well, but the return on investment is much better. And fortunately, there are lots of resources out there to help you, from books and articles to classes and coaching programs.
With this in mind, I recommend you get onboard my free social success newsletter, to receive regular practical advice from me on sharpening your social skills, directly into your Inbox.
When you join, you'll also get instant, free access to an instructional presentation in which I'll show you my proven formula for becoming socially confident.
Go here to join the newsletter right now.
Life has a lot to offer. And social skills are a key tool to help you collect much of its fruits. Sharpen your social skills, get out there and use them, and I promise you that your happiness will soar.