Would like to boost mental and spiritual health?
One way for boosting mental and spiritual health is the Top of the Head or the "Bai-hui" meridian point. The point sits on the crown of our head. The literal Chinese-to-English translation of "Bai-hui" means "the meeting place of the hundreds". Aptly, it is where all the energies of our body converge and meet.
In TCM, it is often said that "heaven, earth and man are the three powers". The top of our head is where our human body connects with heaven. It is where the gateway to spirituality resides and and where a lotus flower blossoms in the wake of rising consciousness ((visualise a slow-motion video with the petals unfolding).
The "Bai-hui" meridian point is also the meeting point of all the Yang energy in the body. TCM practitioners use this acupoint in cases of neurological and psychological diseases. By activating this point, it promotes relaxation and mental focus.
What Happens When Energy Flow is Disrupted
An imbalance in energy flow can be caused by emotional trauma. Toxins from our environment, our lifestyle habits, or diet can also affect proper functioning. Here is where TCM practitioners come in. They help patients for a myriad of conditions: emotional, mental, physical, and spiritual. One point that can cover a multitude of conditions is the Top of the Head or Bai-hui point. 
When not properly activated and there is a block in the energy flow, this meridian point is associated with depression, over-thinking, confusion, dizziness, headaches, lack of clarity, vertigo, strokes and mental disorders.
This acupoint can also be used to reverse excessive "downward" flow, such as with diarrhea, heavy menstrual flow, organ prolapse, or even a sinking mood. "Bai-hui" also strengthens endocrine functions for issues like hypothyroidism, weak adrenals and low hormone levels. In fact, it is considered the master point for the endocrine and nervous systems.
All in, the "Bai-hui" is an important meridian point for soothing the senses and calming the spirit.
Tapping on the Top of the Head "Bai-hui" Meridian Point
While TCM practitioners swear by acupuncture, there is also an easy way to access emotional, mental and spiritual benefits without the invasive use of needles. We can simply tap on this meridian point (i.e. the crown of our head) with our finger tips, in order to access the following positive benefits…

restores spiritual balance & physical grounding

improves clarity

creates mental focus

boost brain power

raises Qi or energy

regulates emotional and hormonal balance.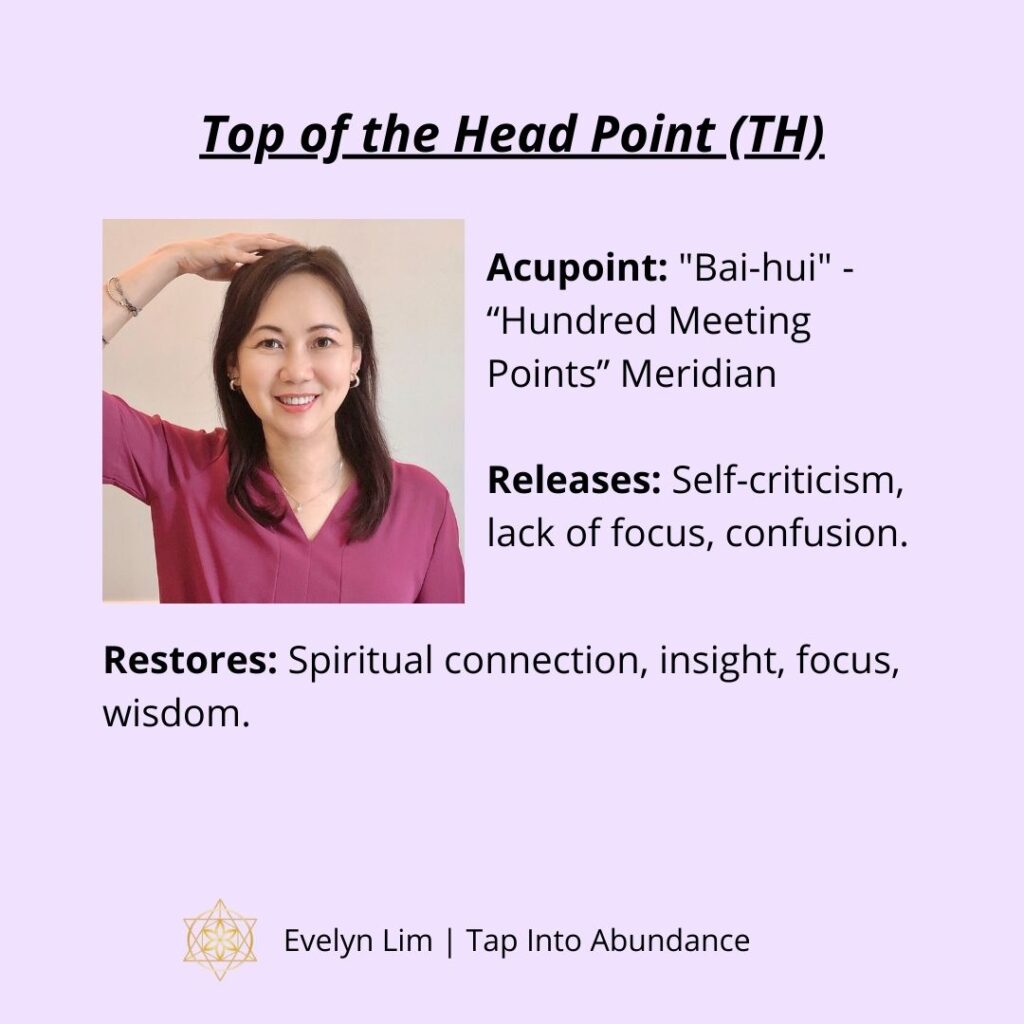 Tapping or EFT Tapping is a therapeutic approach of using our finger tips to tap on specific meridian points on our face and body, while processing our negative emotions and beliefs. Learn about the EFT tapping points here.
If you are interested to learn more about mind-body connection, read my earlier post on letting go of anger via the bladder meridian point. 
To your well-being,
Evelyn Lim
Abundance Coach
Certified EFT Practitioner
The post Tapping to Boost Mental and Spiritual Health (Top of the Head Meridian Point) appeared first on Abundance Coach for Women in Business | Evelyn Lim.