You may get all fiery, red and hot when feeling angry.
It may also be that you lash out at others when you start to feel mad.
However, anger may not just be about getting triggered and exploding in an outward behaviour.
While you may feel justified about feeling angry, excessive anger can create an impact on your health and also hurt your relationships. 
Hence, to alleviate intense emotional levels such as anger, an inner deep dive is warranted. 
In fact, if you choose to investigate, you may just find out that there are deeper "onion" layers (emotionally and cognitively).
Refer to the image below for some examples on what you may discover.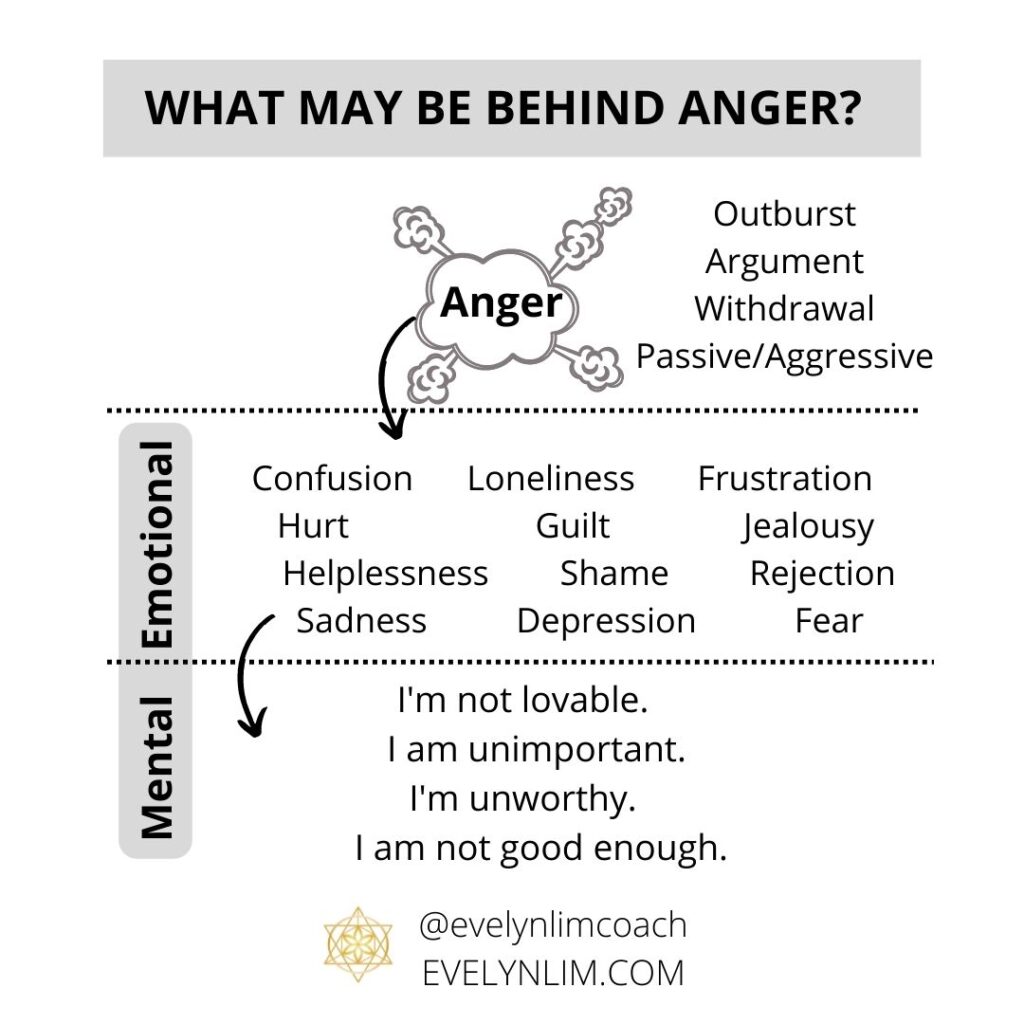 At the root, you may find out that there are certain negative core beliefs that make up your thought patterns.
Examples of core beliefs 
– "I am not lovable"
– "I'm not important"
– I'm unworthy"
– "I'm not good enough"
– etc. 
These core beliefs are likely to influence you in how you feel and how you respond in terms of reactive behaviour. They form the programming that drive your impulses. The beliefs are your default automatic negative thought patterns. They may explain why you find yourself in the same negative situation repeatedly. 
Deep Dive into the Root Cause of Anger 
My question is: To get to what is really behind anger, how far or deep are you willing to go?
If you want to make a change in how you react or respond to triggers, consider diving in to find out the root cause of anger. 
I work with clients to unearth deeper layers and to heal somatically, so that they can alleviate their automatic angry reactions. We find out what core beliefs are driving their patterns of behaviour and we work on integrating a new set of loving and supportive beliefs for a better way forward. A shift gives way to an embodied sense of calm and ease.
If you'd like to find out more about working together, click over here for a discovery call. 
To your well-being,
Evelyn Lim
Therapeutic Coach 
Self-Love Healing Specialist 
The post How to Deep Dive into the Root Cause of Anger appeared first on Abundance Coach for Women in Business | Evelyn Lim.