Going through a tough period?
Finding it hard to deal with emotional overwhelm?
Perhaps, you are at a loss about what to do with the flood of feelings that are coming up.
A client once described her experience as being in a washing machine, with the flood of emotions spinning round and round and unable to stop. And it happens to the best of us. Whatever the trigger is, it may be that you are feeling angry or sad, all at once. Or that you are feeling torn.
You just can't make out what to think or how to go about solving your problems. No wonder you struggle to fall asleep. Well, if you have been feeling struggling, I would like to invite you to create a safe space for yourself.
Instead of being in a rush to repress or deny what you are going through, give yourself some time to process your feelings.
Start by putting your hands over your heart and center your breathing.
Be in a safe non-judgmental space as you work through this.
Steps to Deal with Emotional Overwhelm
Center Yourself. Breathe deeply & slow down. Get into a non-judgmental space to safely process how you feel.
Acknowledge Your Feelings. Avoid denying or suppressing what you feel. Give yourself the permission to feel your negative emotions. It is vital to create a safe space for the processing of feelings.
Label Your Feelings. Name what you are feeling. Eg. "feeling sad". Research studies shown that you experience a release when you label your emotions with specificity and granularity.
Get in Touch with Your Body Sensations. Notice what is going on in your body. Find out if there are signs; such as, racing heartbeat, heaviness in the tummy or tension in the head. Your body stores the trapped energy. To unstuck and ease this energy, it is important to first recognise it.
Dive Deep. Uncover the root cause of your emotional story. Allow your feelings and sensations to indicate to you if your issues are stemming from the past. Are they about childhood wounds? What took place? What were your unresolved needs? Did you experience emotional neglect?
Embrace Yourself. Love and accept yourself anyway, in spite of the difficult emotions. Acknowledge that it is okay not to be feeling okay, and accept that you are not perfect. Give yourself the attention and assurance that you need.
Realise the Impermanence of Feelings. Feelings come and go, let go of the need for control. Be willing to release any identification with the feelings and to let go of the past.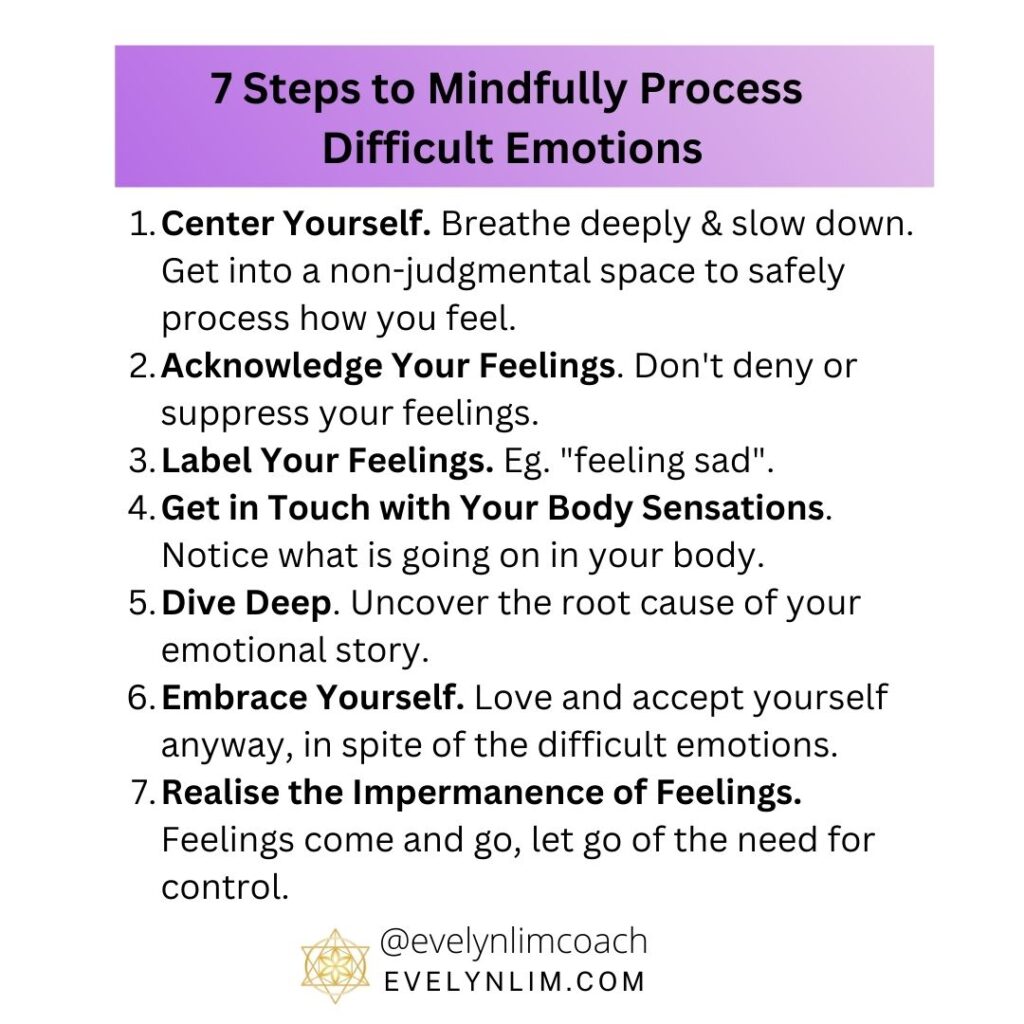 This Too Shall Pass
If you are in an emotional overwhelm, one reminder that you can give yourself is: this too shall pass. You understand that all circumstances whether good or bad are temporary. Thus, from a non-attached and non-judgmental space, you observe the ebb and flow of feelings. They are like waves of the ocean on the shoreline; sometimes rushing in and sometimes receding. You make peace with the highs and lows, and gently invite yourself to trust that you'd be okay. 
Should you still be struggling, do reach out for your local mental health helplines. Or if you need specific help in processing your feelings, do reach out to me. I specialise in helping clients process their negative emotions with using EFT, so that they can become better able to handle the crisis that they are in and take charge of their life. Apply for a discovery call with me here. 
Take care, 
Evelyn Lim
Self-Love & Emotional Healing Specialist
The post How to Deal with Emotional Overwhelm When It Feels Too Much appeared first on Abundance Coach for Women in Business | Evelyn Lim.